With flexible zone monitoring, coaches can substantially optimize their training. Azum enables coaches to see at a glance in which intensity zones their athletes have been moving and for how long, and how they have implemented their specifications.
As a coach, you probably give some thought to how you want to distribute the intensities of your athletes. And try to respond to them as individually as possible. In addition to the planning, however, the evaluation also takes some time.
Until now. Azum's new zone monitoring gives you a much better overview in no time by comparing plan and execution data.
Quickly see how athletes train
You can see immediately whether the athletes have understood your instructions and whether they have trained too loosely, too intensively or just right. This allows you to respond even more individually to your athletes and flexibly adapt the training if necessary.
This way, you ensure high-quality training presets and significantly reduce idle time. You can display the zone monitoring in the daily, weekly, monthly or even annual view. And make comparisons over a wide range of time periods.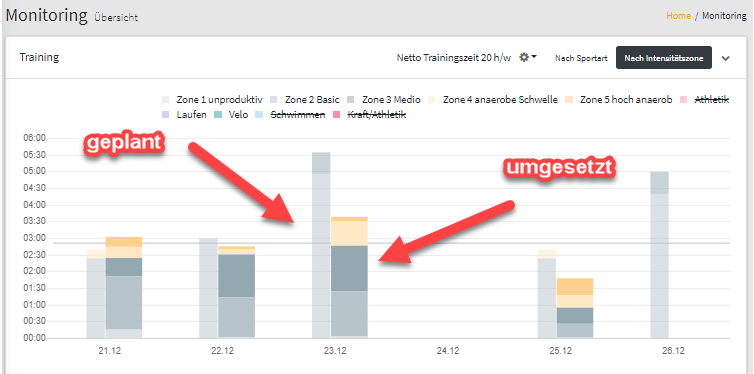 In combination with the overview of the training load by sport, you get an excellent overview of the stress of your athletes in a simple way.
Select views at will
Here you can also choose whether the graphic should display the daily, weekly, monthly or yearly overview.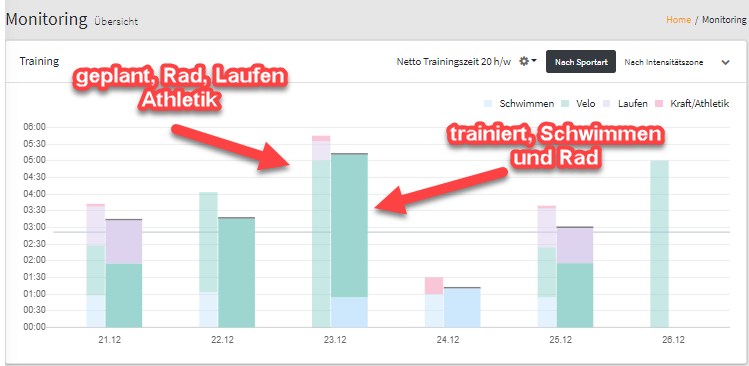 Every athlete has different demands.
So much for the initial situation and the technical possibilities that Azum offers you to monitor your protégés in the best possible way. Let's now try to work out how you as a coach can work with zone monitoring using concrete examples.

Depending on physiological conditions, fitness level, and seasonal phase, you will tailor a training program of varying intensity for your athletes to develop optimally. For example, an athlete with a very low lactate formation rate (VLamax) should train little to not at all in the medio zone (basic endurance 2).
If the opposite is true and the athlete wants to lower her VLamax, she should train little at very low intensity (below basic endurance 1) and quite high intensity (well above the anaerobic threshold).
The zone monitoring now supports you in defining exactly such principles. And monitor them accordingly. Together with the metabolic profile, which you can store in Azum independently of FTP or other assumptions, zone monitoring allows you to plan and evaluate your training individually.
Metabolic profile: the FTP alternative.
This means that you are not dependent on inadequate FTP or other assumptions for planning and analysis, which may fit well for the athlete with a low VLamax. But not for the one with a high VLamax.
The following graph shows a six-month summary of actual time spent per intensity zone excluding data from swimming and athletic training.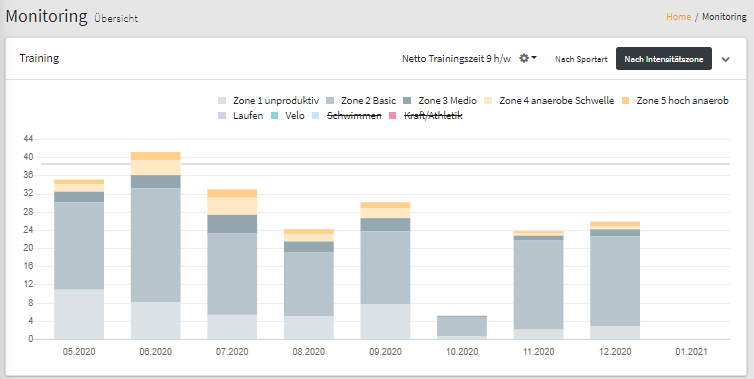 Monitoring of various parameters:
Power, pace and heart rate.
Azum lets you choose which values you want to display in the zone monitoring.
Depending on the training phase, you look at other parameters. Especially in the preparation period, when your athletes often run hills, it is worthwhile to shift the focus from pace (min/km) to heart rate. This way you can ensure that intervals are not run too hard over longer periods of time.
In the race phase, on the other hand, it's the pace monitoring that you look at more closely. And you use it to work out your race strategy.
In cycling, monitoring via wattage values has come to the fore in recent years. But here, too, it is worth taking a regular look at the minutes spent per heart rate zone.
This gives you a second parameter to include in development control and use for comparisons to other seasonal phases.
Also, your athletes may not have power meters on every bike and you'll be happy to control and monitor intensities using heart rate readings.
No matter what your preferences are: With Azum, you are totally flexible and can access the data you need with one click.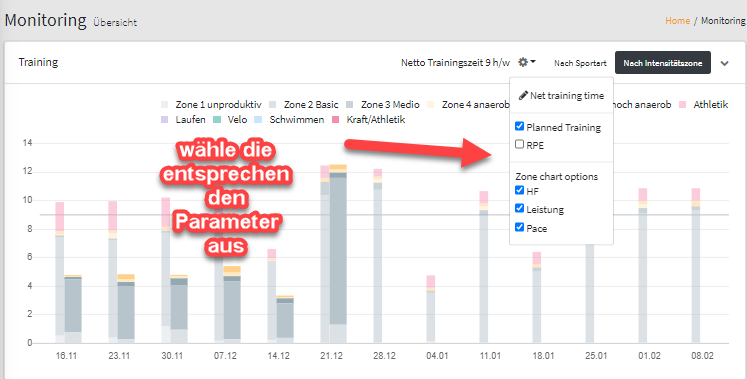 Cross-country skiing and ski touring: keep an eye on winter activities with zone monitoring.
In winter, your athletes* may be honing their fitness more often on narrow or wide boards on snow. As we saw in the post Cross-country skiing: Curse or Blessing for Endurance Athletes?, too much intensity in training is often the problem here. With zone monitoring, you can take countermeasures and make corrections at an early stage.
Conclusion: Zone monitoring optimizes coaching.
Zone monitoring helps you to adapt training plans to each individual athlete in the best possible way and to optimally plan and evaluate the various intensities according to your principles.
In particular, you can protect overmotivated athletes from overtraining. And ensure that all your protégés are in top shape at the start of the next race.
If, in addition to the zone analysis, you also keep track of the individual units and your athletes give you feedback on their general condition from time to time via feedback form in Azum, you also ensure more fun in training and in everyday life.